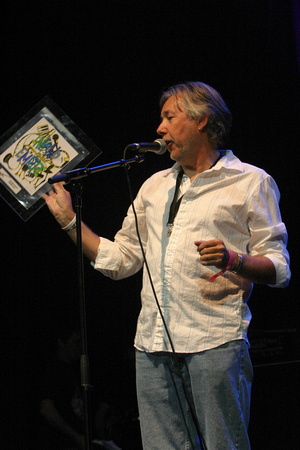 2007 Orange County Music AwardsSaturday, March 31 7pm -
The Grove Theatre, Anaheim

What do folk, pop, rock, punk, jazz, electronic, roots, hip-hop, blues, hard-core and country artists have in common? All have a musical voice as part of the Sixth Annual Orange County Music Awards, to be held March 31 at the Grove Theatre.
The OC Register writes "I think the OCMA is giving Orange County music a voice. You don't have to wait for unsigned artists to be discovered (by a major label) to know there is great music out there."
Martin Brown produces the show as well as The IEMA (Inland Empire Music Awards) , and expects to top last year's 500-plus entries. OCMA judges include music critics from local publications, as well as representatives from Warner/Elektra/ Atlantic, Virgin Records and Universal Entertainment. About 25 awards will be handed out, and 10 local acts will perform live.
Tickets are $20 advance/$ 25 day of for the event. For more info, to purchase tickets or to submit a band or solo artist please visit
www.orangecountymusicawards.com
This is sure to be an exciting event and will be even bigger and better than last year's show. Call Martin Brown at (714) 624-8729 email
Orangecountyrox@aol.com
for more information.
SIXTH ANNUAL ORANGE COUNTY MUSIC AWARDS, AT THE GROVE OF ANAHEIM, MARCH 31, 2007
The OCMA is an excellent opportunity for local bands to receive recognition and exposure for all of their hard work during the year. With more than 25 awards being handed out, dozens of local bands and solo artists will be honored.
There will also be live performances from more than ten local acts, winners from the 2006 show.In categories from Best Jazz to Best Metal, the whole musical spectrum will be covered. The show is a celebration of the local music scene. It is equal parts party, networking opportunity and a chance for major media exposure.
Doors open at 7pm and the show starts at 8.Tickets are $20.
They may be purchased from the Grove box office or through Ticketmaster.
===== Buy Tickets Online ====================
Orange County Music Awards
Saturday, Mar 31st at 8:00pm
Doors Open at 7:00pm
Buy Tickets Here:
http://www.thegroveofanaheim.com/events/show.aspx?ID=425