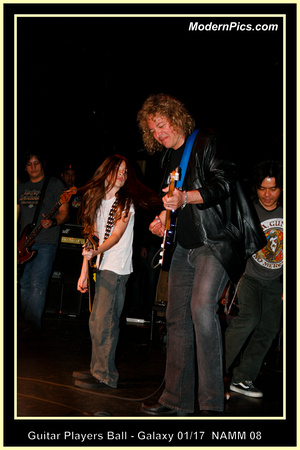 Big Guns Come Out for Guitar Players Ball
There's a heavy Line-up for the Guitar Players Ball taking place during the 2008 Winter NAMM Show. Blabbermouth reports that George Lynch (ex-Dokken, Lynch Mob), Dave Meniketti (Y&T), Warren DeMartini (Ratt), Gilby Clarke (ex-Guns N' Roses) and Tracii Guns (L.A. Guns) are among the musicians who will take part in the the Guitar Players Ball on January 17 at the Galaxy Theater (3503 South Harbor Blvd) in Santa, Ana, California.
Images by: Dave Safley (David Norris Photography)
(MP)ModernPics
http://www.ModernPics.com
http://www.MySpace.com/modernpics
Guitar Players Ball at The Galaxy Theater 01/17/08 for NAMM 2008 - View Shoot Pics Here!